NOCOAST is a video production company based out of Colorado.
NOCOAST excels at creating carefully-crafted video production for commercials, real-time livestreams, and music videos.
Our team embraces the moment. We fuse realism with the magic of everyday life. By harnessing light, sound, and technology, we create multimedia content that feels authentic to both the storytellers and their audience.
Let us tell your story…
Whether working with Fortune 500 companies or small local businesses, NOCOAST's approach to video production is the same: craft authentic stories with your specific audience in mind. The goal is to sell your brand fast and effectively.
Give us a call! Our experienced crew of Directors, Cinematographers, Drone Pilots, and Audio Engineers will find the right approach. We will meet your production's needs on schedule and within budget every time.
Pre and Post preparation  
Video production can feel complicated, but a well-prepared plan ensures a smooth production from start to finish. Let's craft your authentic story, talk scripts, budgets, storyboards, scheduling, permits, insurance, crew needs, and more.
We spend long days in the edit lab bringing our videos to life. The Adobe Creative Suite is a powerful tool for audio and visual storytelling. Motion graphics help break down complex information, delivering the message simply and clearly.
NOCOAST scales our crew up or down depending on your budget and what is needed.
From large creative agency commercial shoots to run-and-gun event capture, our experienced production team is comfortable in every scenario.
We Fly to You…
Our team has produced commercials all across the USA, including social media campaigns for the U.S. Census in Los Angeles, to fly-on-the-wall documentary shoots with Calvin Klein in New York City.
4K Ultra HD
Livestreams are an incredible way to reach your audience from afar. That's why clients such as Walgreens, The Lumineers, the US Census, and the Telluride Bluegrass Festival hired NOCOAST to spread their message across the world. Let's bring your event to your audience!
Planning
Allow us to put your mind at ease. Livestream productions are complicated! We will iron out the details regarding the presentation and internet bandwidth demands. A well-conceived plan ensures a smooth production from start to finish with cost-effective methods.
Check out our Equipment
Currently, our 4K Blackmagic ATEM Switcher kit guarantees the highest quality livestreams. Our Sony FX6 Cinema cameras, Camera Goat dollies, DJI stabilizers, Atomos recorders, and professional lighting rigs create a cinematic look. Let's go wireless with our zero-delay Teradek 4KLT 750.
Teamwork
From controlled, large corporate events to small run-and-gun concert venues, our experienced production team is comfortable in a variety of scenarios. Of, course, our intercom systems keep the crew in direct contact throughout the livestream as all the cameras roll…
Our Kit is Fly Ready
Consequently, NOCOAST has produced Livestream events across the USA. Check out our range of work! We have coordinated social media campaigns for the U.S. Census in Los Angeles to sold-out rock concerts in New York City with My Morning Jacket.
NOCOAST lives for Music!
When creating a music video, we scale our crew up or down depending on the needs of the production. 
No matter if we're shooting a single-camera narrative, a personal documentary, or on-stage in front of a live audience with a large crew, let's create some magic together.
Regardless of the size of our crew, you will find our professional approach remains the same: WE ARE ALL IN! 
Creative Pre-Production
Let's get the creative juices flowing and put forward an engaging storyline that is authentic to you and your audience. A well-conceived plan ensures a smooth production from start to finish with cost-effective methods.
Video and Photography
NOCOAST constantly upgrades our equipment. Currently, we are excited to be using Sony's FX6 Cinema cameras, Camera Goat dollies, DJI drones and stabilizers, Atomos recorders, and Aputure lighting.
Production Teamwork
Our experienced production team includes directors, cinematographers, producers, and editors. We are ready to meet your video and photography needs.
Let's Conjure Something New
So, let's push the boundaries a little and get experimental! Not to mention employing advanced lighting set-ups, stop-motion techniques, and lens filtration.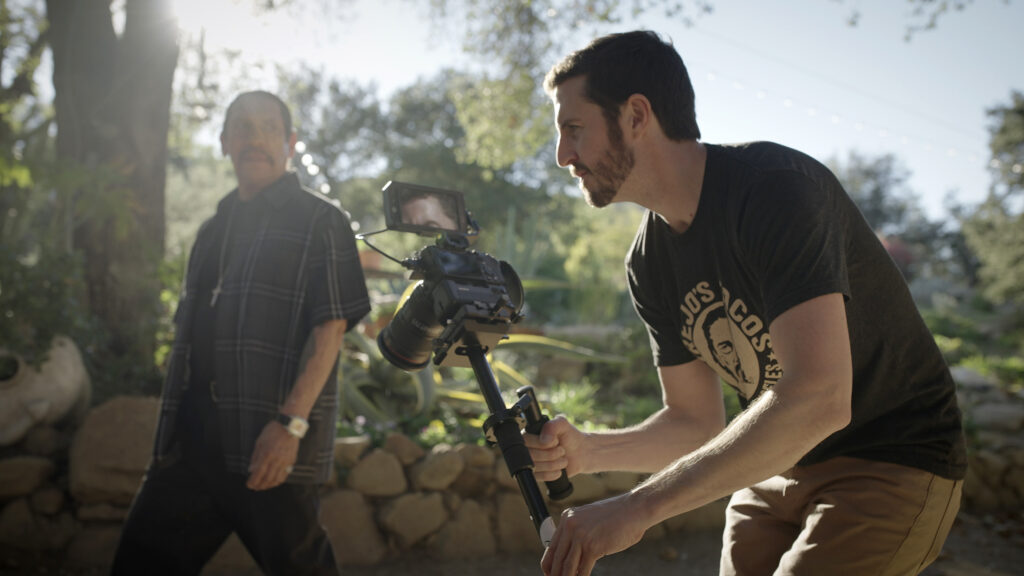 Director / Director of Photography / Video Production / Aerials
Jesse thrives in settings where a hands-on approach is needed with problems to solve. Whether it's a commercial shoot, music video, or fly-on-the-wall documentary, Jesse aims to draw the viewer into a story. His visual aesthetics range from natural, available-only lighting to highly controlled scenarios that stretch into the experimental or psychedelic. Jesse balances forethought with spontaneous verité. He is always looking to capture real, authentic moments with his creative partners.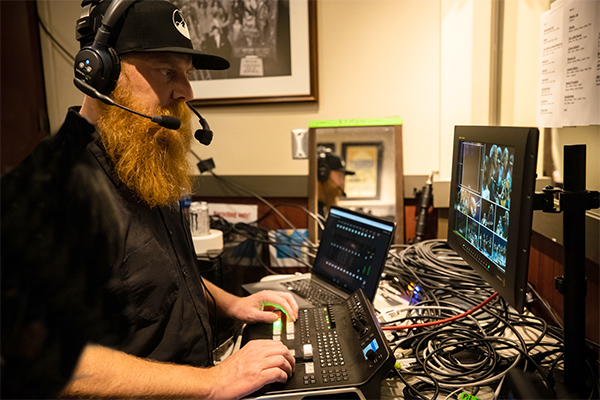 Live Stream Director / Photographer / Video Production
With over 100+ livestreams in the director's chair, Tobin has been leading the NOCOAST stream crew by example for years. Trained as a fine art photographer, his skillset fuses analog with cutting-edge digital trends. Tobin specializes in videography, live concert photography, and portraits. These traits make him especially comfortable in the studio and out in the field. Tobin's work has been published in local and national publications, including Rolling Stone Magazine.
"NOCOAST is a unique treasure in the crowded production space. They are not a company or crew just to be hired, they are there to partner seamlessly on projects big and small, paying attention to every nuance."
– Andi Poch, Executive Producer, Wingman63
"I've enjoyed working with NOCOAST very much. They handle the 'capture' job onsite very well, which allows me to relax and concentrate on the 'performance' job that I also hope to do well. In post, there is good communication and a great aesthetic. They get it."
– Bela Fleck, 16-Time Grammy Award Winning Musician